Quality Management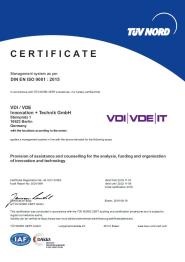 Customer satisfaction is always a top priority at our company. Our goal is to communicate transparently, to act as a reliable service provider for our customers and to supply top-class results. In order to do this, one needs good quality management which promotes the close cooperation with customers, a culture of constructive criticism and reinforces the dedication of the employees. For this reason, VDI/VDE Innovation + Technology has appointed a Quality Management Officer who supports and promotes these processes. Our quality management system has been certified by the TÜV NORD [Technical Supervisory Authority of Northern Germany] CERT GmbH in accordance with the DIN EN ISO 9001:2015 Standard. Naturally, we work in accordance with this standard at all our company's locations and departements.
Information Security's Importance at Our Company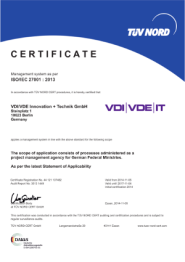 Information processing plays a key role for the fulfilment of tasks at VDI/VDE-IT. As project manager, working with confidential information is part of our daily business. Thus, VDI/VDE-IT maintains an information security management system (ISMS) for its integrated management system. The goal of the ISMS is to define, control, maintain and constantly improve the information security at the company.
The management system was certified in accordance with the internationally recognised norm DIN EN ISO27001:2013 in October 2014 for the processes which are rendered in project managements for German federal ministries. The certification process was conducted by TÜV NORD CERT GmbH. In three supervisory audits in 2015, 2016 and 2019 the norm-compliant maintenance and continued development of the ISMS was once again documented.