1978: Establishing The VDI Technology Centre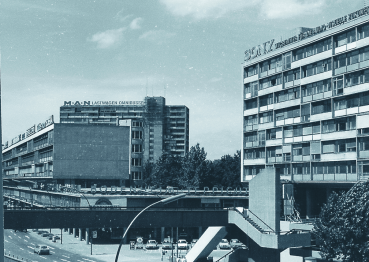 For many small and medium-sized enterprises, introducing new technology was a challenge. To help them with this challenge, the Federal Ministry of Education and Research established a technology centre (TZ). The task of the VDI-TZ, which was founded on 1 April as a department within VDI, was to promote technological developments in the microelectronics and physical technologies departments. To begin with, it had 26 employees, who worked at Ernst-Reuter-Platz in Berlin.
1980: First Project Management Assignment In The Microelectronics Department
VDI-TZ became the project management agency for a Federal Ministry of Education and Research programme that aimed to introduce SMEs with structural adaptation difficulties to the microelectronics technology. Over time, the company became the project management agency for more and more technology-focussed funding programmes.
1981: Managing A Project for The German Government
The German government launched a special programme for promoting the use of microelectronics. VDI-TZ was chosen as the project management agency for the programme, which had a total budget of 300 million DM.
1982: The Design Of Integrated Circuits
In the company's newly-founded electronics design centre, developers and selected pilot users worked together to design prototype application-specific integrated circuits (ASICs).
1983: SMEs As Drivers Of Innovation – Supporting Technological Start-Up Businesses
Two programmes were launched: TOU, which focussed on promoting technological start-up businesses, and the Federal State of Berlin's innovation fund. As such, VDI-TZ began to focus on supporting start-up businesses on both a national and a local level – a step that would make a lasting impact on the way the company developed.
1984: VDI-TZ Spin-Off in Düsseldorf
The physical technologies department was spun off, laying the foundations for the VDI technology centre in Düsseldorf. The IT technology centre remained in Berlin.
1985: Focussing On Microperipherals
The Federal Ministry of Education and Research was prioritising funding for microperipherals. In this context, VDI-TZ worked with Germany's industrial and private sector players to help them develop inexpensive, miniaturised sensors that were compatible with microelectronics.  
1986: A Second Shareholder And Becoming A GmbH
VDI was joined by VDE, which became a second shareholder. As a result, VDI-TZ became VDI/VDE Technologiezentrum Informationstechnik GmbH (VDI/VDE-IT).
1987: Expansion To The Far East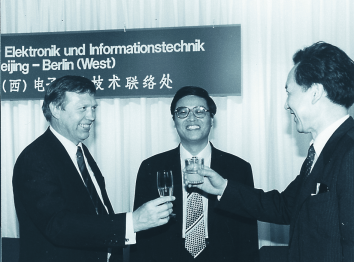 At VDI/VDE-IT, the China liaison office commenced its work promoting German-Chinese collaboration in the fields of electronics and IT.
1989: Awards Ceremony On The Day The Berlin Wall Fell
The VDI/VDE-IT organised the Berlin Prize for Innovation awards ceremony. On the evening of the awards ceremony, the Berlin Wall fell. This year was a turning point for the history of VDI/VDE-IT, as it was for most Germans. In the years to follow, the economic development of the new federal states would be one of the company's major remits.
1990: First Microsystems Technology Funding Programme And The Economic Reconstruction Of East Germany
With its first microsystems technology funding programme, the Federal Ministry of Education and Research began supporting what was and still is one of Germany's key future technologies. Germany's reunification also shaped the company's history. The TOU start-up programme, which had been successful in West Germany, was re-designed for and implemented in the federal states of eastern Germany. By the end of 1996, nearly 370 new companies had been formed under this programme.
1992: Innovation Funding Launched
The Federal Ministry for Economic Affairs commissioned VDI/VDE-IT with the implementation of its innovation funding programme in the new federal states.
1993: International Consultancy Services And The Move To Teltow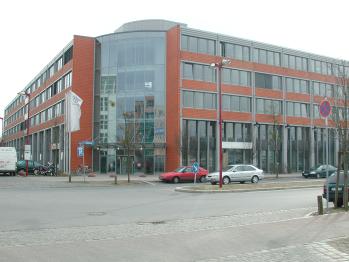 VDI/VDE-IT made its first international appearance in the context of the 'Value Relay Centre', a European Commission network. A number of other projects followed. For example, during subsequent years, VDI/VDE-IT provided advice in ten countries in Central and Eastern Europe. VDI/VDE-IT sought to build closer relationships with the young, technological companies in the new federal states. To do so, it moved its head office to the 'Techno Terrain' business park in Teltow.
1994: Second Microsystems Technology Funding Programme And Innovation for The New Federal States
The second Federal Ministry of Education and Research microsystems technology funding programme was all about 'microsystems technology as integration technology'. The Federal Ministry of Education and Research initiated the product renewal programme (PEP), which used 75 million DM from the assets of the former East German ruling party to fund more than 180 innovation programmes in the new federal states. Both programmes, microsystems technology and PEP,  were implemented by VDI/VDE-IT.
1995: Innovation Relay Centres And The Dawn Of The Internet
1995 was another milestone year – we went online! The European Commission also launched the Europe-wide Innovation Relay Centres (IRC) network. It assigned VDI/VDE-IT the task of coordinating the IRC North Germany.
1996: FUTOUR
The Federal Ministry of Education and Research established the FUTOUR funding programme and put VDI/VDE-IT in charge of its implementation. Start-up founders in the new federal states were given targeted support, which included expert advice and an innovative combination of grants and equity capital.
1997: First Multimedia Start-Up Contest And The First Activities Begin In Bavaria
The 'Gründerwettbewerb Multimedia' start-up contest for the multimedia sector, which was commissioned by the Federal Ministry for Economic Affairs, aided the formation of more than 1,000 businesses and more than 5,000 new jobs in the five years that followed. The Bavarian Ministry of Economics, Transport and Technology selected VDI/VDE-IT as the project management agency for its 'Mikrosystemtechnik Bayern' microsystems technology funding programme.
1998: Neuer Markt, A Guide for Multimedia Start-Ups And An Innovative Trade Fair Exhibit
Shortly after the Neuer Markt (New Market) segment was launched, VDI/VDE-IT used its expertise to appraise technological businesses. Having partnered with holding companies and investment banks, it made a name for itself in the new technology and capital sector. The first guide for multimedia start-ups was published as a CD and was made available online. VDI/VDE-IT also worked together with partners from industrial and research fields to organise the first fully functional production line ever to be displayed at the SMT/ES&S/Hybrid exhibition.
1999: Mikrosystemtechnik 2000+, Microsystems Technology In Lower Saxony and InnoNet
At a congress entitled 'Microsystems Technology – Innovation for the 21st Century', the Federal Ministry of Education and Research launched the 'Mikrosystemtechnik 2000+' funding concept for microsystems technology. The Lower Saxony Ministry for Economics, Technology and Transport commissioned VDI/VDE-IT with the implementation of the state's microsystems technology initiative. The Federal Ministry for Economic Affairs announced the launch of 'InnoNet' to provide support for innovative networks in order to boost the innovative capacity and competitiveness of medium-sized companies. The project was implemented by VDI/VDE-IT – and networks became another of the company's areas of expertise.
2000: Microsystems Technology Presented On A Global Stage And The Field Of 'Innovation And Technological Analysis' Is Established
In the 2000s, VDI/VDE-IT steadily conquered more and more new fields. Our entry into the field of renewable energy began with solar-thermal electricity generation. Additional contracts in areas such as electro mobility, IT security, Internet of Things, material efficiency and assistance systems laid the foundations for our current portfolio. School-based and vocational education were also new fields for us.
The variety of tasks the company was tackling grew, as did the number of employees. At the specialist micro/nano exhibition at the EXPO 2000 in Hanover, VDI/VDE-IT showed an international audience the kinds of opportunities offered by microsystems technology and nanotechnology – both in 2000 and in the years to come. The Federal Ministry of Education and Research (BMBF) commissioned VDI/VDE-IT with designing and managing its new activities in the field of Innovation and Technological Analysis.
2001: 'Mikrowelten' Roadshow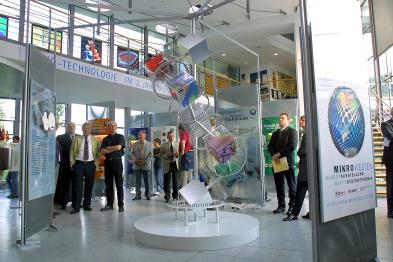 On behalf of the BMBF, VDI/VDE-IT designed and coordinated the 'Mikrowelten' (microworlds) roadshow. The travelling exhibition visited numerous cities in Germany and the EU. It helped visitors – even those who didn't have a technological background – to understand the potential of microsystems technology (MST).
2002: Ideenwettbewerb And Administrative Office For Lower Saxony MST Initiative
At an 'Ideenwettbewerb' (idea competition) organised by VDI/VDE-IT, the BMBF selected six education and training networks for microsystems technology. VDI/VDE-IT also became the administrative office for the Lower Saxony microsystems technology initiative.
2003: Information And Communications Technology In Bavaria
The Bavarian State Chancellery assigned VDI/VDE-IT with the project management of the state's information and communications technology funding programme. This reinforced the company's presence in Bavaria.  
2004: Solar-Thermal Electricity Generation – A New Future-Oriented Topic for VDI/VDE-IT
VDI/VDE-IT assumed the project management responsibilities for researching, developing and disseminating solar-thermal power plants on behalf of the Federal Ministry for the Environment. In doing so, it helped to promote and advance renewable energy. At the beginning of the year, VDI/VDE-IT began managing the 'Mikrosysteme' (microsystems) framework programme on behalf of the Federal Ministry of Education and Research. It organised the event entitled 'Mikrowelten - Zukunftswelten' (Microworlds – Future Worlds), which marked the launch of the programme in February. Since 2004, VDI/VDE-IT has been organising the multimedia-focussed start-up competition, 'Gründerwettbewerb – mit Multimedia erfolgreich starten' on behalf of the Federal Ministry of Economic Affairs and Labour. The competition is held three times each year.
2005: Administrative Office Opened In Munich, Microworlds And DEMEA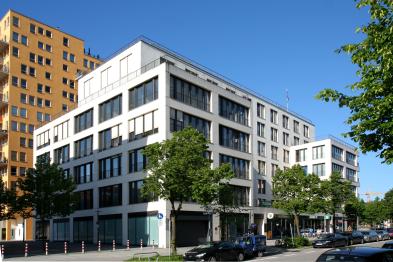 Owing to the successful work carried out in Bavaria, VDI/VDE-IT opened an office in Munich. This enabled it to be close at hand for managing Bavaria's funding programmes for microsystems technology and information and communications technology.
Another highlight was an exhibition in Freiburg called 'Mikrowelten - Zukunftswelten: Die unsichtbare Revolution' (Microworlds – Future Worlds: The Invisible Revolution). The exhibition, which VDI/VDE-IT had designed for the BMBF, showed the special features and potential uses of microsystems technology. It was well-received by schoolchildren, members of the general public, press representatives and politicians alike. In the years that followed, the exhibition visited other locations in Germany. The Federal Ministry for Economic Affairs and Energy (BMWi) set up the German Agency for Material Efficiency (DEMEA) in order to boost the competitiveness of SMEs. VDI/VDE-IT was commissioned with managing the new agency.
2006:  VDI/VDE-IT Returns To Berlin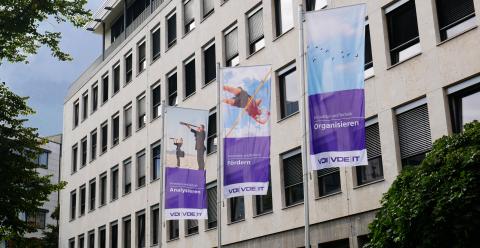 It was a milestone in the company's history when VDI/VDE-IT moved to the listed Hoechst building at Berlin's Steinplatz, just a few hundred metres from the place it was founded. From its new location, the company continued its work supporting innovation processes. In July of this year, the European Technology Platform on Smart Systems Integration (EPoSS) was launched in Brussels, providing the community with a cross-technology information network that focussed on smart systems and integrated micro- and nano-systems. It brought together a variety of stakeholders. Security research was a fundamental aspect of the European Commission's seventh framework programme for research and development. It was also vital for national programmes. Since microsystems technology was making valuable contributions to overcoming the challenges associated with this field, VDI/VDE-IT organised an international conference in Potsdam entitled 'Safety and Security Systems in Europe'.
2007:  Skilled Worker Shortage, Internet of Things And An Institute Within VDI/VDE-IT
In September, VDI/VDE-IT held a symposium on behalf of the Federal Ministry of Education and Research. The subject matter was the recognition of pre-existing competencies and permeability within vocational and higher education. 180 experts from the private sector, the scientific community and politics discussed possible ways of combating the skilled worker shortage and training employees to a high level. On behalf of the Federal Ministry of Economic Affairs and Technology, VDI/VDE-IT organised the main technology policy event to mark Germany's EU Council Presidency. At the event, which was called 'RFID: Towards the Internet of Things', more than 400 participants from all over Europe worked together on compiling a political road map and outlined the next steps for developing the Internet of Things. The Institute for Innovation and Technology (iit) was founded within VDI/VDE-IT, giving our academic work its own identity. Since then, the institute has been working on analyses, studies and evaluations. It also develops its own instruments and tools for gaining fundamental insights about innovation processes.
2008: A Location In Dresden, Electro Mobility, Renewable Energy and Supporting SMEs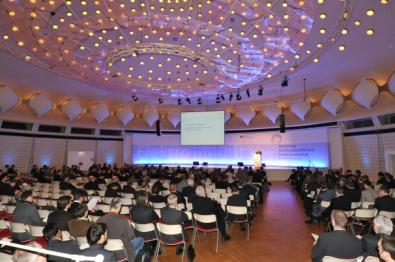 The National Conference on Strategies for Electro Mobility, which VDI/VDE-IT organised on behalf of Germany's ministries for research, economic affairs, the environment and transport, was held in Berlin and was well-received by representatives from industry, the scientific community, politics and the media. The Federal Ministry of Economic Affairs and Technology commissioned VDI/VDE-IT with taking charge of the network module of the new central innovation programme for SMEs (ZIM). In early 2008, VDI/VDE-IT opened an administrative office in Dresden in order to coordinate the joint Saxon renewable energy initiative (ESSA) on behalf of Saxony's Ministry for Economic Affairs, Labour and Transport.  
2009: Skills Networks And Assistance Systems
Germany's best technology networks converged at the annual meeting of the Federal Ministry of Economic Affairs and Technology initiative 'Kompetenznetze Deutschland' (German skills networks), which was managed by VDI/VDE-IT. The high point of the event was when the 'Kompetenznetz 2009' prize was awarded, along with prize money totalling 35,000 euros. The BMBF commissioned VDI/VDE-IT to shape the content of the Germany's second Ambient Assisted Living (AAL) congress, which was attended by more than 500 delegates, 22 exhibitors and 40 journalists. At the BMBF stand, which was coordinated by VDI/VDE-IT, delegates could use an 'Age Explorer' to experience the way old age feels.
2010: Validation Funding
This year, there was an interdisciplinary programme for validating the technological and societal innovation potential of scientific research, which was called 'VIP' for short. VDI/VDE-IT worked on this programme on behalf of the BMBF, providing advice to interested establishments, processing funding applications and supervising research projects.
2011: The Rise Of Electro Mobility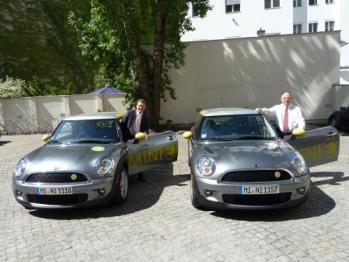 On behalf of numerous government ministries, VDI/VDE-IT helped compile the national development plan for electro mobility. It also managed an electro mobility project for the Federal Ministry for the Environment and it worked on European projects such as the Green Cars Initiative. In the summer of this year, employees took part in the fleet testing of two MINI E cars.
2012: Human-Technology Interaction, Communication Systems, IT-Security And Electronics, Autonomous Electric Driving
In 2012, our interdisciplinary strength reached a new pinnacle. On behalf of BMBF, we became the project management agency for large projects focussing on key technologies for innovations that benefit society. These programmes about human-technology interaction, communication systems, IT security, electronics and autonomous electric driving required expertise. Our company, which had now grown very strong, was able to provide this expertise. Highlights from this period included contributing to the relevant research programmes and to national congresses. With support from cluster management organisations, the 'go-cluster' programme joined forces with the 'Kompetenznetze Deutschland' initiative, which VDI/VDE-IT had been overseeing for the Federal Ministry for Economic Affairs since 2007.
2013: Technological Impact Assessment And The First BMBF Future Congress
Horizon scanning techniques were used to identify scattered or weak indicators of emerging scientific and technological trends that were still somewhat undefined. On behalf of the Karlsruhe Institute of Technology and the Institute for Technology Assessment and Systems Analysis, VDI/VDE-IT used these methods to create trend profiles. These brief profiles were designed to provide political figures with an overall impression, enabling them to select topics for more in-depth analysis. The first BMBF future congress, which was held in October in Berlin, was attended by around 300 guests from the scientific community, the private sector and politics. Our company organised this conference, which focussed on the topic of human-technology interaction.
2014: Cluster Policy, Cluster Management And ISO Certificatio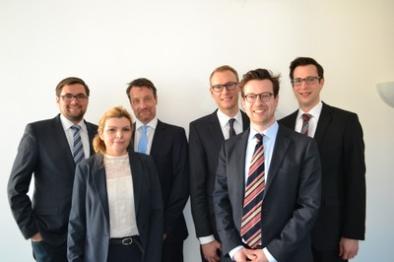 The Baden-Wuerttemberg cluster agency was launched and VDI/VDE-IT opened a project office in Stuttgart. The cluster agency was an initiative of the Ministry for Economic Affairs, Labour and Housing and it is run in close partnership with VDI/VDE Innovation + Technology GmbH, the consultancy network Steinbeis-Beratungszentren GmbH and Baden-Württemberg International GmbH. It is a service provider for cluster initiatives, state-wide networks and cluster policy in Baden-Wuerttemberg. In 2014, the high quality standards of VDI/VDE-IT were confirmed by the successful audit of its capacity as an Information Security Management System (ISMS) according to ISO 27001..
2015: Transformation In The Scientific Community And Skilled Workers for Electro Mobility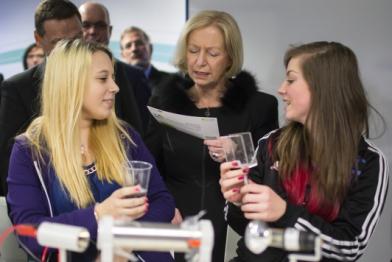 The company now employed more than 300 people. The project management of the 'Digital Change in Education Science and Research' project was a new task for VDI/VDE-IT. The company helped the BMBF to implement major aspects of the government's digital agenda. Education and skills are another crucial success factor for electro mobility. In order to achieve this success, what should education and training look like? This question was the focus of the Nationale Bildungskonferenz Elektromobilität (national educational conference on electro mobility), which was organised by VDI/VDE-IT on behalf of the BMBF.
2016: The Rise of Digitalisation – Industry 4.0, Mobility And Digital Academic Teaching
By now, 'digital age' was a well-established term used for describing a new era – an era increasingly characterised by an interconnected, global way of thinking. Together with Microsoft, VDI/VDE-IT organised its own roadshow about Industry 4.0 and smart factories. For the roadshow, seven manufacturing companies throughout Germany opened their doors and participants had the opportunity to speak with representatives from the Fraunhofer Institute for Manufacturing Engineering and Automation and the German Research Centre for Artificial Intelligence. VDI/VDE-IT managed the 'Automated and interconnected driving' project on behalf of the Federal Ministry of Transport and Digital Infrastructure (BMVI), thus supporting a promising field of innovation. It was also the project management agency for 'mFund' – the BMVI's fund for innovative approaches and digital business ideas. This project also involved the provision of a comprehensive database containing geographic data as well as data about weather and mobility. VDI/VDE-IT also managed the 'Digital Academic Teaching' project, which was another building block for digitalisation. During its project management of the BMWi funding programme 'STEP up! – StromEffizienzPotenziale nutzen!', VDI/VDE-IT focussed on the utilisation of energy efficiency potential.
2017: Health, Energy Supply And An Office In Bonn
The Federal Ministry of Health's departmental research is an important aspect of its decision-making process for health policy issues. In order to support the ministry with this, VDI/VDE-IT began managing a project concerning the strategic direction, planning, implementation and evaluation of research programmes – another milestone in our company's development. VDI/VDE-IT opened an administrative office in Bonn in order to have a local presence for its clients in the region.
Photo credit: All pictures on this page (c) VDI / VDE-IT