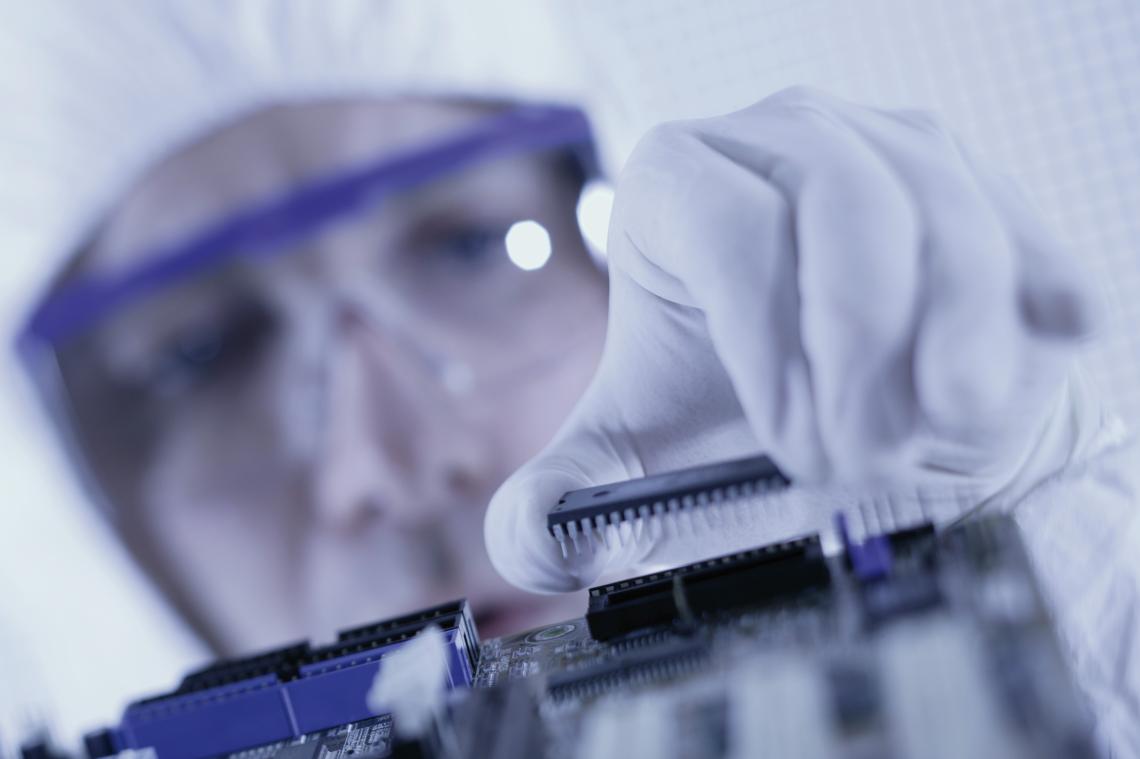 Everyone uses smartphones and computers – daily and everywhere. Electronic systems, components and related products make our communication electronics efficient and fast, they accelerate the processes in our factories and power our cars, they play a vital role in medicine and energy technology would be inconceivable without them. However, we often tend not to think about them. Insteaf, we merely consider them to be a natural part of our everyday life and, above all, a very small part.
Over the long course of time, the miniaturisation of integrated buttons on transistors, diodes and storage capacitors, which ensure increasingly faster data processing speeds and lower energy consumption, have been driving forces for research and innovation. Progress attained during chip production has resulted in higher performance at lower costs. The microelectronics were initially linked chiefly to the unprecedented success story of information and communication technology and the computer. Today, not only integrated buttons but also other components such as microelectro mechanical sensors are produced directly on the chip. Even the integration of various semi-conductor chips in individual housing is possible. Often, at first, such complex integrated microelectronic systems offer functions which are required for mastering future demands. The technological progress enables more functionality, higher security, reliability and energy efficiency.
Key Technology for Germany
For the export nation of Germany, which also aims to be successful with innovative products on global markets in the future, electronics represent one of the most important key technologies. More companies – including medium-sized businesses – are using them for the development of new products and processes or the improvement of existing ones. They are used both in industrial production, automation and robotics and in intelligent mobility – particularly during electric and automated driving but also for sustainable and efficient energy supplies as well as in medical technology.
Electronics are system-relevant for the competitiveness of Germany as an industrial location. Only with its own electronics competence in science and business can Germany co-design digitalisation and thus improve its digital sovereignty. At the same time, electronics themselves represent an important industry segment in Germany.
Research and Development
The microelectronics industry is a dynamic growth industry which, at the same time, is very research-intensive. The industrial developments in Germany have been embedded into a rich R&D landscape and symbiotic value-creation chains. Of particular significance is the microelectronics cluster around Dresden which is the largest in Europe.
Advising, Analysing, Promoting, Organising
VDI/VDE-IT has at its disposal qualified employees with practical experience from university and industrial research in electronics. As the result of many years of experience supporting relevant projects, we are well-networked within the electronics community, serve on specialised committees and attend events in order to be able to optimally support continous development. We contribute our competencies as project manager for publicly funded programmes and fulfil supporting tasks such as analyses on the state of technology, programmatic concepts or the organisation of strategic processes. Because we have offices in Dresden and Munich, we can be on-site at the largest production sites for microelectronics in Germany.
For the German federal government's new framework programme "Microelectronics from Germany – Innovation Drivers of Digitalisation", we have been assigned the project management responsibilities.