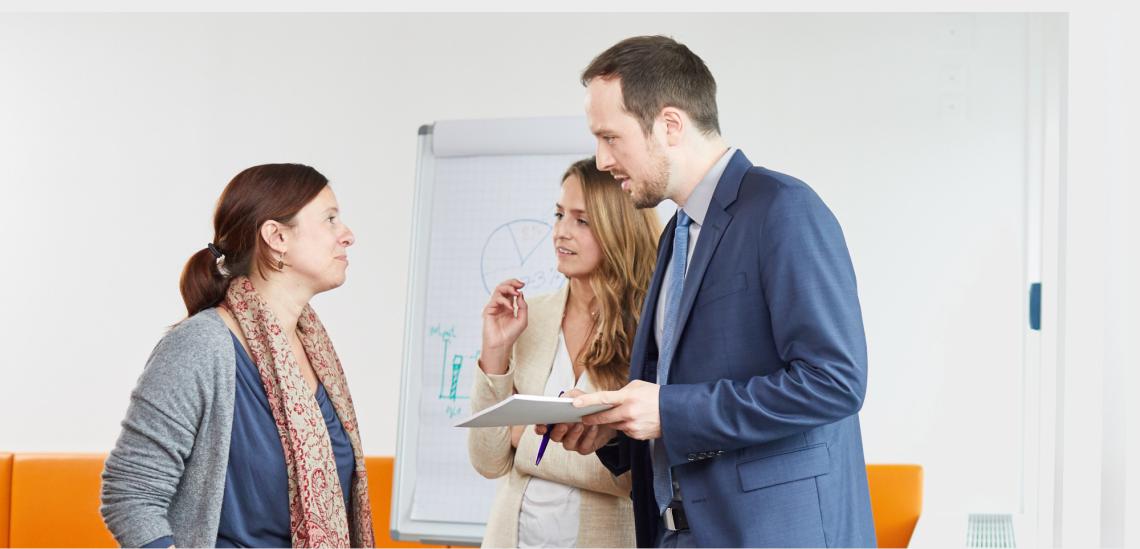 We are convinced that our constructive style of communication and our creative approach to new problems have been crucial to our success. Our strong sense of responsibility shapes the way we act. This applies both to the way we treat our employees and the way we act towards society and the environment.
Equitable working conditions that create space for autonomy – as an employer, we try wherever possible to take your needs into account when arranging your working environment. When it comes to our interactions with our employees and clients, we are aware of our responsibilities and we are always mindful of the consequences of our actions.
We invest in our employees. After all, they are the ones who make our company effective. One way we support them is by providing training opportunities that are relevant to their area of work.
Our high requirements for quality are not only evident in the substance of our work but also in our workflows and communication processes. For example, we use an information security management system and our quality management is ISO certified.
Our clients' needs are always the focal point of our thinking and initiatives. We would describe ourselves as a service provider that performs exploration and evaluation services as well as design and implementation tasks. We take this approach with our clients from national and state-level ministries, our international work and our work for technology-oriented SMEs.
Sustainability is important in many areas within our company. Our newly built premises in Berlin, for example, is extremely energy efficient and we use green electricity. The ways we are intentionally saving resources include server virtualisation, digital archiving and our efforts to move towards a paperless office. Last but not least, the majority of our employees either cycle or use the corporate public transport season ticket to get to work.
We learn from our mistakes
If the desired objectives are not met, we see it as an opportunity for change and development. We work together with our quality management team to analyse mistakes and introduce corrective measures. In this way, we increase the awareness of other risk factors.
We think about innovation processes holistically
We take scientific, economic and social aspects into consideration and we address forward-looking, interdisciplinary topics. The broad spectrum of our employees' skills is foundational to this approach.
Political neutrality and independence are important to us. We offer non-partisan advice and our work is based on scientific findings.
Back to VDI/VDE-IT as an employer