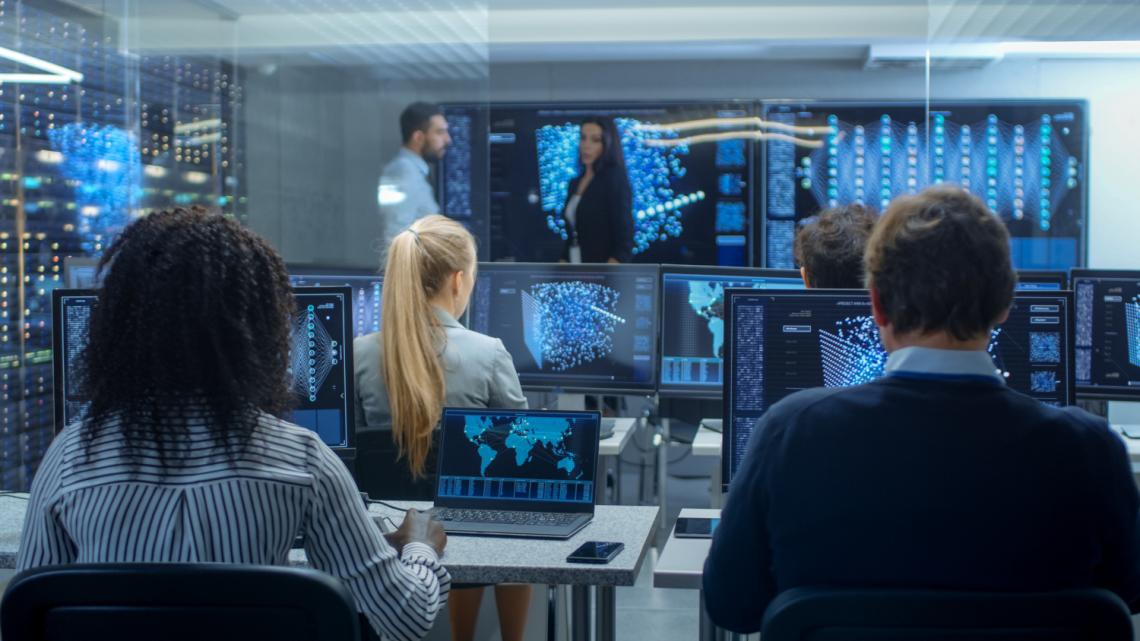 One of the main features that has characterised the societal transformation of our era is the digitalisation of almost every area of life and work. Unlike any other development of its kind, digitalisation has huge economic and social potential, which is capable of making permanent changes to our communal life. As such, new concepts are required: for accessing, organising and disseminating knowledge and research data, for organising work and industrial development, for education and mobility, but also for the medical sector and for leisure activities.
Digitalisation is speeding up the pace of our lives and it provides each individual with huge quantities of information and a vast array of possibilities. It interconnects things with each other and automates processes, which, in many cases, makes human intervention unnecessary or even impossible. It shapes the way the economy develops and allows entirely new business segments to emerge. Meanwhile, other business models are challenged or even rendered obsolete. Digitalisation opens up new opportunities in science, places new demands on our educational systems and creates global connections between people.
The Opportunities and Risks of Artificial Intelligence
We are already taking advantage of digitalisation every day. The constant availability of communication systems enables us to stay in touch with one another. We order goods from all over the world and navigation devices give us directions as we travel through our towns and cities. In contrast, however, there are challenges that take us to the limits of what is ethically desirable or sensible.
For example, with highly efficient analytical capabilities and a globally aggregated knowledge base, we can substantially improve the medical consulting and treatment offered to those with severe illnesses. But would it then be right for a treatment decision to be made by artificial intelligence?
Naturally, robots and machines are supposed to enable us to avoid doing physically demanding and dangerous tasks. But of course we also need to be constantly thinking about how to control and monitor decisions made by machines.
We therefore need to give consideration from the outset to the legal, regulatory and ethical aspects of developing innovative applications, in addition to the technological opportunities that artificial intelligence offers in many areas of life and the economy.
Technological Impact Assessment
The opportunities offered by digitalisation are associated with a wide range of social, technological, ecological, economic, political and legal challenges, which must be considered. We will only be able to successfully distribute the opportunities and risks fairly across the whole of society if we also devote our attention to social and societal implications.
Advising, Analysing, Promoting and Organising
For many years, our experts from a broad range of disciplines have been working on every aspect of digitalisation and artificial intelligence. We support research and development for the areas that are foundational to digitalisation, such as software engineering, electronics and microsystems, communication technology and IT security.
We provide decision makers at all levels with advice about the intensifying challenges in the areas of IT security, data protection and privacy protection.
We also provide scientific guidance for research and innovation projects undertaken by world-class   scientific and economic institutes, in areas such as artificial intelligence. We address the topics of added value and the platform economy and we support start-ups whose business models are built on digital technologies.
We help with the process of designing an educational landscape that gives people in all walks of life the skills they need to work well with applied digital technologies. We support the process of digital transformation in research, education and science.
We initiate dialogues and strategic processes that offer solutions to innovation policy issues. We also conduct studies of the technological trends in, prerequisites for and consequences of digitalisation, in order to provide the foundations required for decision making. Topics include working in a digitalised world, the ever closer and increasingly complex interaction between humans and technology, the ethical and legal issues and the economic opportunities and consequences.