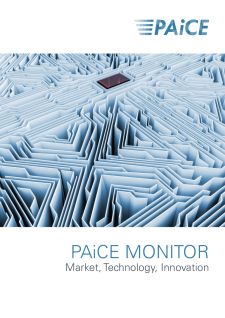 Industry, research and politics are driving the horizontal and vertical interconnection
of production and logistics under the overall 'Industry 4.0' vision. All-encompassing digitalisation of processes in development, production, transport and use will not only make it possible to once again boost the efficiency of work, resources and capital, , it will create opportunities to provide private and business customers with customised projects in a timely fashion. This will create the basis for maintaining and strengthening the leading international position of Germany's manufacturing industry.
With the PAiCE technology programme (Platforms | Additive Manufacturing | Imaging | Communication | Engineering), the Federal Ministry for Economic Affairs and Energy (BMWi) supports the implementation of the overall 'Industry 4.0' vision in business practice as part of the Federal Government's Digital Agenda.
PAiCE is continuing the work of predecessor programmes, i.e. Next Generation Media, AUTONOMIK and AUTONOMIK for Industry 4.0, where basic technologies for decentralised or even autonomous process control in industrial applications were tested and new resultant requirements analysed with regard to their impact on business models, work organisation and the legal treatment of liability, certification and data protection issues.
The projects in PAiCE are now taking the next step, addressing the development of digital industry platforms as well as collaboration between companies using these platforms. Five
clusters have been set up for this purpose:
The Robotics cluster, which consists of the BakeR, QBIIK, RoboPORT, ROBOTOP and SeRoNet projects, works on open modular systems for service robots in industry and the service sector.
The 3D cluster encompasses the Add2Log, DigiKAM, M3D and SAMPL projects and works on platforms for additive manufacturing.
The projects of the Engineering cluster – DEVEKOS, EMuDig 4.0, INTEGRATE and VariKa – develop and test concepts for cooperative engineering.
The Logistics cluster consists of the iSLT.NET and SaSCh projects that deal with platforms for managing logistics networks.
The IC4F cross-sectional project finally represents the Communication cluster. Based on the work in the PAiCE projects, IC4F is developing a communication and computing architecture for Industry 4.0.